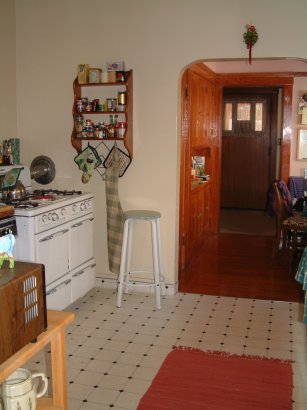 Our kitchen was okay. Not much for counter space and it was very isolated from the living and dinning rooms. So, we told our General, Dan "Dan, while you're at it....."
Can you take the doorway to the left of the stove and tear it out...
Then cover up the other doorway. We never use it.

Yeah, let's tear out the old linoleum. Thanks for the help, James.
This new framing will allow for a 30" stove with countertop on both sides.

The countertop will wrap around to the other side so guests can have a seat and a drink.
As of 7-1-03 we still have a ways to go.