SETTING THE HOUSE BACK DOWN
Once the new perimeter foundation was poured, and the weight bearing walls were built,
the house could be set back down.
The upper floor was lowered this much.
Exterior Framing:
Plywood encased the framing to make sure it remains square.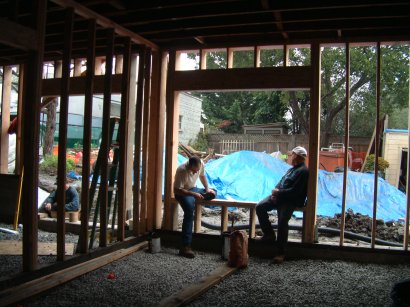 A well-deserved rest in the window of our future master bedroom.
Interior Framing:
Lowering of the House:
I-beam, joists Making sure the upper walls Once the house is tools of the trade
and crib. line up with the lower walls. down, nail guns in action
to secure walls to frame
The windows go here: