Framing for doorway for apartment's eastside bedroom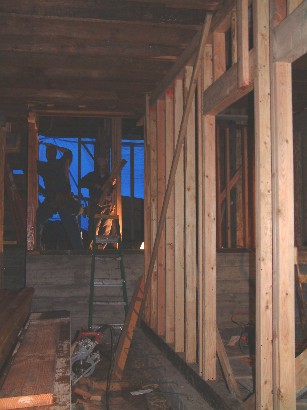 Fortunately, while the storms blew in one after the other with very little pause, the guys were able to work under the plastic-sheeted house while outside, buckets of rain fell and gusty winds blew.
Exterior, then interior, walls were built from the new foundation up. Exact sizes and locations for the doors and windows were decided upon (finally). Even a doggie door will be framed into an exterior wall!
The apartment is taking shape! Take a look:
Entrance bathroom Looking out The kitchen window
window kitchen window will look out from here
(into a plastic sheet)
HOW DID THEY DO THAT?! Good question ... read on!
Temporary work tables set up Watchful eye of the Careful planning
in the side and front yards Berkeley Construction
Foredoggie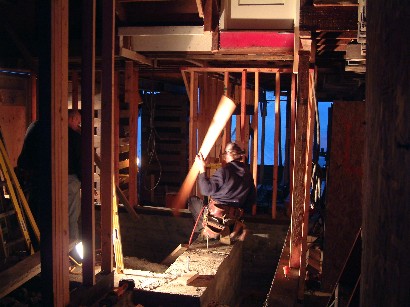 VOILA!
Okay, it was not quite as simple as that! The foundation was poured on December 6th - this picture was taken on the 20th. So in less than 2 weeks they turned a mountain of 2 X 8s, 2 X 4s and sheets of plywood into new walls! The 2 X 8s used to frame the foundation was reused for framing the exterior walls! Reuse and Recycle! We like that!
Plywood for 2 X 4s for Using a plank Front stairway
exterior walls interior walls to walk between will be built here
lower split levels
Framing windows is very exacting work
Apartment Making sure it Looking through bathroom window
bathroom window measures out
Once the framing is completed, the house will be set down on the new walls and foundation
The house will be lowered this much - Interior Wall view - Exterior Wall view
Do you think my grass The rare blue sky
will come back :(
'OME SWEET 'OME